Localization
Your online ministry has the chance to reach a broad audience. To help, the Church Online Platform is localized for multiple languages and regions. Additionally, the attender chat is auto-translated across many languages.
Attender Chat Languages
The attender and Host views are localized in the following languages.
Afrikaans
Albanian
Amharic
Arabic (Saudi Arabia)
Belarusian
Bengali
Bulgarian
Chinese (Hong Kong)
Chinese (Simplified)
Chinese (Traditional)
Catalan
Croatian
Czech
Danish
Dutch (Netherlands)
English
English (UK)
Farsi
Filipino
Finnish
French
German
Greek
Haitian Creole
Hebrew
Hindi
Hungarian
Icelandic
Igbo
Indonesian (Indonesia)
Italian
Japanese
Kannada
Khmer
Korean
Latvian
Lithuanian
Macedonian
Malayalam
Malay (Malaysia)
Mongolian
Norwegian
Polish
Portuguese (Portugal)
Portuguese (Brazilian)
Romanian
Russian
Shona
Slovak (Slovakian)
Slovenian
Spanish (Latin America)
Spanish (Spain)
Swahili
Swedish
Tamil (India)
Thai
Turkish
Ukrainian
Urdu
Vietnamese
Welsh
Yoruba
Zulu
Changing Platform Translation
Attenders and hosts can change the language for their experience.
Tap the 3 bars on the top left of the screen.

Select a new language from the options.
Admin Localized Languages
The Church Online Platform admin currently supports churches who speak the following languages:
Afrikaans
Simplified Chinese
Traditional Chinese
Dutch
Filipino
French
Hindi
Indonesian
Italian
Malay
Polish
Russian
Spanish - LA
Vietnamese
Welsh
More supported languages to come!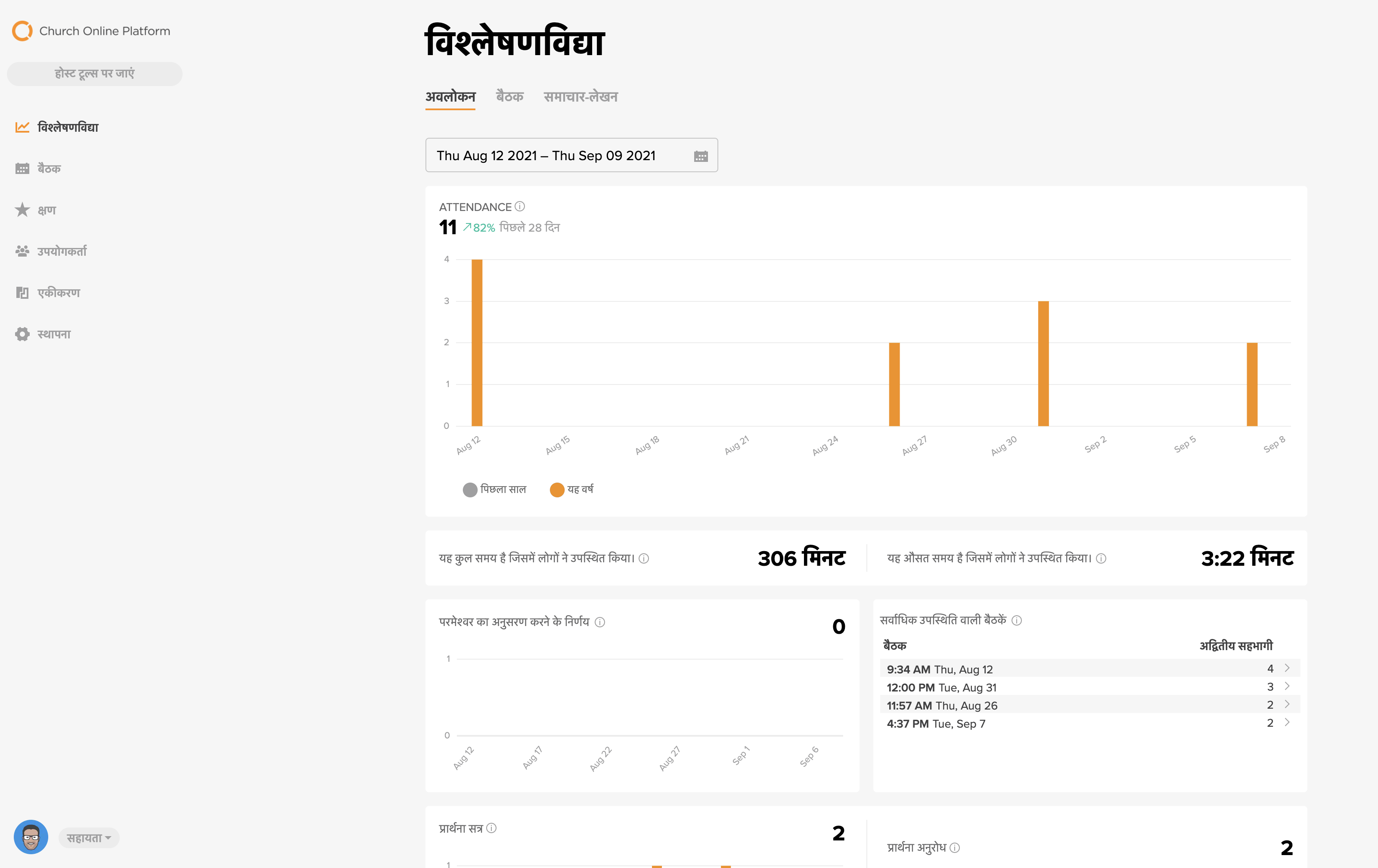 Changing Admin Translation
You can change your translation in admin by tapping your avatar and choosing from the language list.
---
---